Coping with Anxiety and Depression – Monday Afternoon Workshop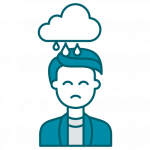 Coping with Anxiety and Depression – Monday Afternoon Workshop
We are offering a weekly workshop starting on Monday October 18 from 12:30pm-2:30pm. Please note that being registered for the session on October 18 will automatically register you to include every Monday until December 13. Registration will be closed after the second session on October 25.
These sessions will focus on coping with Anxiety and Depression and teaching skills and techniques that participants can utilize to begin making positive changes in their lives. If you are ready to begin to take action and make changes in your life, this group is intended for you. Overall, the goal of the group is to empower you to develop an informed action plan and begin to change your relationship with Anxiety and Depression. Topics will be determined by survey of the registered group participants. There is NO cost thanks to the funding provided by FCSS and the Wellness Network. Please call our reception team with any questions you may have. 780.757.0900
Coping with Anxiety and Depression:
We offer drop-in support groups and workshops, free of charge- courtesy of our funders and sponsors.