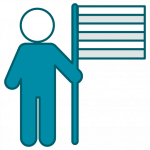 Queer Café
Session Dates TBA
New to the Queer Community and looking to connect? Already a fabulous Queer who is looking for community?
This drop-in, weekly confidential and online group is open to anyone that identifies as a sexual or gender minority or (to give us one current acronym) a member of the LGBT2SQQIPAA community. Please note that we respect the importance of allies; however, this is an exclusively queer space for queer folks to discuss their experiences and support each other.
The Queer Cafe is facilitated by Franki Harrogate (they/them), Registered Provisional Psychologist
Queer Café is a drop-in group, and we will be discussing topics like consent, community & relationships, and ways to cope with anxiety (especially if it's increased lately!). Queer Café is also self-directed, meaning that topics and discussions will reflect queer issues that group members deem important and would like to engage with.
These sessions continue to be of no cost thanks to funding by the Wellness Network.
Drop-In Support Groups and Workshops
We offer drop-in support groups and workshops, free of charge- courtesy of our funders and sponsors.