Virtual Coping with Anxiety and Depression Series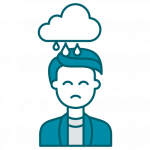 Coping with Anxiety and Depression Series
"There is hope, even when your brain tells you there isn't"
– John Green, Turtles All the Way Down
This virtual drop-in Anxiety and Depression support group is for individuals who are dealing with Anxiety and Depression. Within this 6 week series, individuals will gain a better sense of how behaviours are developed and maintained from a variety of contexts within and around us. Each week presents a new topic, including mindfulness, managing unhelpful thoughts, accepting difficult emotions, and self-compassion. Topics include understanding the physiology of anxiety and depression; emotion regulation techniques; challenging cognitive distortions and core beliefs; building an exposure hierarchy; creating a self-care plan; and creating confidence in learning how to manage anxiety and depression throughout one's life.
Wednesday Afternoon
12-2pm
You will receive the link prior to your virtual group session. Please ensure you check your spam folder for this email.
Support Groups and Workshops
We offer drop-in support groups and workshops, free of charge- courtesy of our funders and sponsors.