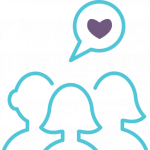 Our Counselling Is Unique
Momentum Counselling operates from an empirically validated Solution Focused Model applied primarily in a Single Session format. The Solution Focused Model facilitates change using a strengths-based philosophy.
Our counsellors are passionate about mental health and wellness and want to ensure you have the support you need, when you need it. Our method of clinical intervention produces real results in real time, relieving you of emotional strain, as well as addressing some of the stress on the overall mental health system. Our sliding service scale determines the applicable session fee. The scale is based on your monthly household income and ranges from $35 to $200 per session.
Ultimately our goal is to empower and connect you with your strengths, as well as the support you need to transform your life. You can expect to leave the session hopeful, armed with concrete tools and community resources. Most importantly, you can expect a sense of validation and the hope that things can and will get better!
We are excited to meet you where you are at. 
Momentum was recently voted #2 Best Mental Health Clinic in Edmonton by Best In Edmonton! We are humbled to receive this honour from our clients and community.
Check out our review here!
Many of our dedicated volunteer Mental Health Professionals have been with us since our inception in 2012! Our Clinical Supervision model ensures you benefit from not only your counsellors expertise and training, but also the experience and viewpoints of those with many years of experience.  Our Team Supervision model is unique and incredibly valuable.  
We are a not for profit, registered charity.  Our team members are passionate advocates for mental health and wellness.  They give of their time and talents not for personal gain, but to give back to their community.  
We believe that mental health is not a luxury reserved for those with financial means or extended health benefits but a RIGHT.  We all deserve to be mentally and emotionally well, regardless of our current circumstances.  At Momentum, our mission is to ensure equitable access to mental health support. 
If you are in need of a Counsellor in Alberta, click the button to schedule a session.