Virtual Coping with Anxiety and Depression Workshop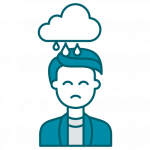 Coping with Anxiety and Depression Workshop
This virtual workshop is a condensed format of the weekly Anxiety and Depression Series. This workshop is for individuals who are dealing with Anxiety and Depression. Individuals will gain a better sense of how behaviours are developed and maintained from a variety of contexts within and around us. This workshop will cover topics from understanding the physiology of anxiety and depression; emotion regulation techniques; challenging cognitive distortions and core beliefs; building an exposure hierarchy; creating a self-care plan; and creating confidence in learning how to manage anxiety and depression throughout one's life.
Sunday March 5, 2023
10:00 am – 3:00 pm
You will receive the link to access this virtual session through WebEx, one day prior. Please ensure you check your spam folder for this email.
Coping with Anxiety and Depression​
The group is facilitated by Kimberly Masliuk-Giddings, RCSW, Clinical Director and supported a counselling intern.