Virtual Front Line Workers & First Responders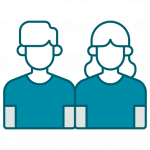 Virtual Front Line Workers & First Responders
"When you reach out your hand to help one of them, they almost always grab your hand with only one of theirs, because they're using their other hand to reach behind them and pull up somebody else with them."
Virtual Front Line Workers & First Responders
Support & Recovery
First Responders experience a variety of situations and circumstances that can lead to feelings of burnout, exhaustion, stress, and feelings of unhappiness with one's job. This virtual 6- week psycho-educational support group will cover a variety of topics including: Post-Traumatic Stress Disorder, Compassion Fatigue, Anxiety, Depression, Burnout, Self-Care, and many more topics that the group identifies as important to them to discuss. This group provides a safe and non-judgmental space to engage in sharing of experiences. Our hope is that individuals can take away some new insights, tools, and techniques to help them to understand and manage their unique needs and experiences as First Responders. 
For the purposes of this group, First Responders refers to any professional who works directly with clients in a variety of capacities. If you are contributing to the health and wellbeing of individuals in society, (e.g., front line workers, support workers,  therapists, group home workers, dentists, fire fighters, nurses, and many more) this is the group for you!
Monday Evenings (March 20-April 24, 2023)
6pm-8pm
You will receive the link to access this virtual session, one day prior. Please ensure you check your spam folder for this email. 
This  group is facilitated by Kimberly Masliuk Giddings, RCSW, Clinical Director.
Support Groups and Workshops
We offer drop-in support groups and workshops, free of charge- courtesy of our funders and sponsors.