Mental Health Awareness Week
October 2nd to 8th-Mental Health Awareness Week
1 in 3 Canadians are struggling with their mental health.  Pretty sobering statistic –  especially considering that 32 percent of Canadians aged 18 to 34 say they need mental health care but cannot access it.  40 percent of this same age demographic – say they feel like they are at a "breaking point" mentally.  These stats are courtesy of the Canadian Alliance on Mental Illness and Mental Health (CAMIMH).
The CAMIMH speaks our language, 'Canadians need access to mental health resources without barriers'.  At Momentum, that is our mission.  We remove barriers for our clients and find innovative and creative ways to achieve this despite obstacles such as lack of public policy and funding support.  We are committed to continuously advocating for change.   There is no health without mental health.
This was to be the month we hosted the Momentum Mental Health Awards.  Although we had to cancel, our friends at Alberta Blue Cross are supporting us to recognize all nominees with a certificate of their achievements as well as a $75 gift card to the delicious Stanhope Eatery! Stay tuned to our social media to celebrate the Mental Health Leaders in our community.  
Each year, Momentum presents the Momentum Team Member Award to one of our best.  This year, I am happy to announce Jaimie Kreklewetz, our Office Manager, as the winner! Jaimie has been with Momentum for 6 years and as one team member describes her, is the Captain of our ship! Her dedication and commitment to our organization, team and clients is unparalleled.  Jaimie is the first person our clients see when they come through the doors and the first voice most of them hear when they call. She values that role and approaches it with grace and compassion. Without her dedication, compassion, humour, and wisdom, the ship would not have made it through Covid. Jaimie has helped shape the direction of Momentum with her contributions that are extremely appreciated. As another team member states, "I can always count on Jaimie as she is committed to the success of Momentum!". Congratulations Jaimie! Thank you for all you do!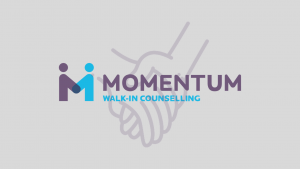 Please help us help our community.  We need you, more than ever.
As always, we couldn't do what we do without you!
If you would like to assist us in providing low-cost, quality mental health support, please consider donating.  As a registered charity, you will receive a tax receipt.  Thanks for helping keep the Momentum!